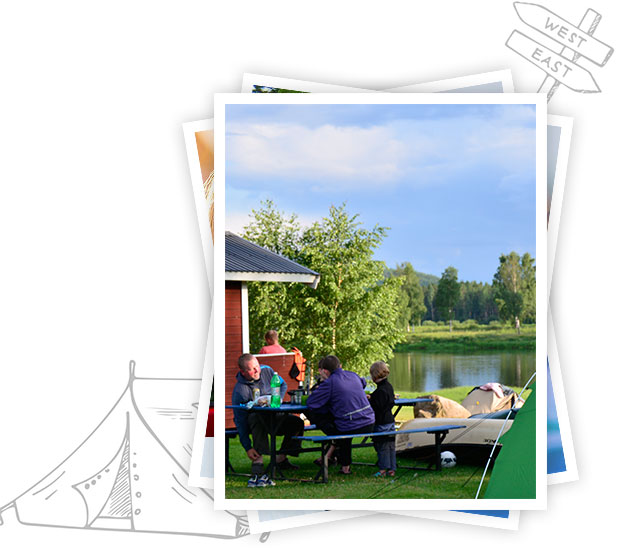 Een warm welkom
bij Byns Camping & Klarälvdalen Kanot
De ruim 40 jaar bestaande Byns Camping in noordelijk Värmland heeft een unieke ligging aan de Klarälven op loopafstand van de supermarkten, winkels en de bijzondere kerk van Ekshärad. Ideaal voor gasten die hier verblijven zonder auto of die graag even wandelen of fietsen naar de winkels.
Onze kano- en kajakverhuur, Klarälvdalen Kanot, onderscheidt zich ook op unieke wijze met een hoge kwaliteit in persoonlijke service gebaseerd op jarenlange ervaring van kanovaren in deze regio. Wij gebruiken dezelfde rivieren als andere verhuurders in de regio maar ons niveau van service en flexibele benadering maakt het verschil. Zelf varen we regelmatig de routes die we aanbieden en delen graag onze ervaringen met onze gasten.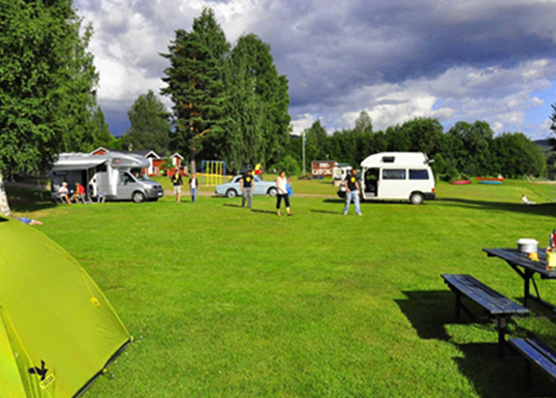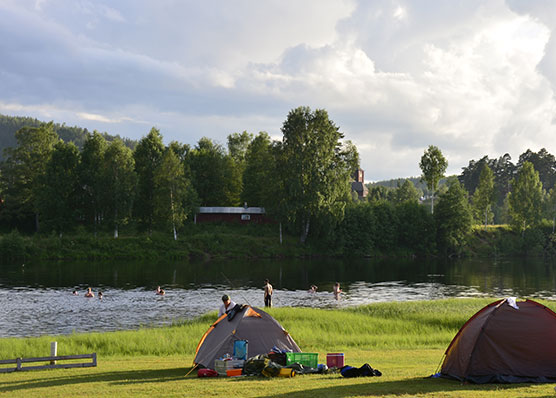 Wij bieden niet alleen lichte dagtochten met kano op het beste deel van de Klarälven, maar ook 2- tot 10-daagse individuele tochten en zelfs begeleide weektochten.
We zijn steeds weer verheugd zoveel gasten te mogen ontvangen uit Scandinavië, uit heel Europa en zelfs van daarbuiten. We hebben gasten die kort op Byns verblijven tijdens hun reis naar het noorden of op de terugweg naar het zuiden. Anderen komen hier een langere periode om te genieten van de rust en de ruimte of om van de vele attracties en activiteiten in de omgeving te genieten.
Zowel de Klarälvdalen fietsroute als de Pilgrims wandelroute lopen hier vlak langs en daarmee is deze camping ideaal voor een overnachting tussendoor.
Veel van onze gasten arriveren via de rivier met een vlot, kano of kajak of ze starten hun kano- of kajakavontuur bij ons. Soms blijven ze nog een paar dagen na hun tour om wat te ontspannen en hun belevenissen met andere gasten te delen.
Iedereen is welkom bij Byns Camping en Klarälvdalen Kanot! We zien er naar uit om zowel nieuwe als terugkerende gasten te ontmoeten in 2022.
What Our Clients Says
Testimonials
"We had a brilliant week on Klarälven and will certainly do it again. Thank you for your great assistance before and during the trip."
Lars & Ray, Norway
"We had a brilliant week on Klarälven and will certainly do it again. Thank you for your great assistance before and during the trip."
Lars & Ray, Norway
Premier Services
EQUIPMENT
PERIOD (days)
2
3
4
5
6
7
Extra Day
Klarälven
1090
1450
1815
2180
2540
2905
385
Svartälven
-
2060
2420
2845
3270
3630
435
Rottnan
-
1940
2300
2600
-
-
435
Transport Charges
| FROM | TO | WITH HIRE |
| --- | --- | --- |
| Edebäck | Byns Camping | 300 |
| Byns Camping | Fastnas | 400 |
| Byns Camping | Stöllet | 654 |
| Byns Camping | Ambjörby | 870 |
| Byns Camping | Likenäs or Branäs | 1014 |
| Byns Camping | Sysslebäck | 1164 |
| Byns Camping | Svartälven Return | 2400 |
| Byns Camping | Rottnan Return | 2400 |
Canoe Hire
EQUIPMENT
PERIOD (days)
1
2
3
4
5
6
7
Extra Day
Standard Canoe
400
630
885
1140
1330
1520
1705
200
Large Canoe
500
760
1015
1265
1455
1645
1835
225
Family Canoe
700
1265
1770
2280
2780
3290
3795
505
4 day Klarälven Family Package
3850 kroner incl. canoe, tipi tent and transport
Waterproof barrel
40 kroner per day
Transport wheels
50 kroner per day
Waterproof stuff sack
50 kroner per day
Prices Cabin
| | |
| --- | --- |
| 2 bed CABIN | 400 SEK/night |
| | |
| --- | --- |
| 4 bed CABIN | 700 SEK/night |
Prices Tent, Caravan or Motorhome
| | |
| --- | --- |
| CARAVAN OR MOTORHOME | 220 SEK/night |
PRICES
| | |
| --- | --- |
| 2 BED CABIN | 400 SEK/night |
| | |
| --- | --- |
| 4 BED CABIN | 700 SEK/night |
| | |
| --- | --- |
| CARAVAN OR MOTORHOME | 220 SEK/night |
CAMPSITE OPEN (26/05 to 03/09)
| | |
| --- | --- |
| Reception open: | 8.30 to 11.00 & 16.30 to 19.00 hrs |
HIGH SEASON (01/07 to 14/08)
| | |
| --- | --- |
| Reception open: | 8.30 to 21.00 hrs |
KLARÄLVDALEN CHALLENGE (01/09 to 03/09)
| | |
| --- | --- |
| Stuga: | 2 night minimum for race |
Day Tours
Regular Canoe, suitable for 2 guests
800Kr – Includes Transport
Large Canoe, suitable for 3 or 4 guests
1000Kr – Includes Transport
Extra Large Canoe, suitable for 5 guests
1200Kr – Includes Transport
Klarälven Tours
Canoe day tour for 2 guests
Only 800kr – Including Transport
4 day tour Branäs to Byns for 2 guests in standard canoe
Only 2354kr – Including Transport
4 days tour Branäs to Byn large canoe, room for more equipment (or the dog)
Only 2479kr
Big Canadian Family package 4 days Branäs to Byns
Only 3494kr – Including Transport
Svartälven Tours
2 guests Svartälven for 5 days
Only 4180kr – Including Transport and Wheels
Rottnan Tours
2 guests Rottnan 3 days
Only 3485kr – Including Transport